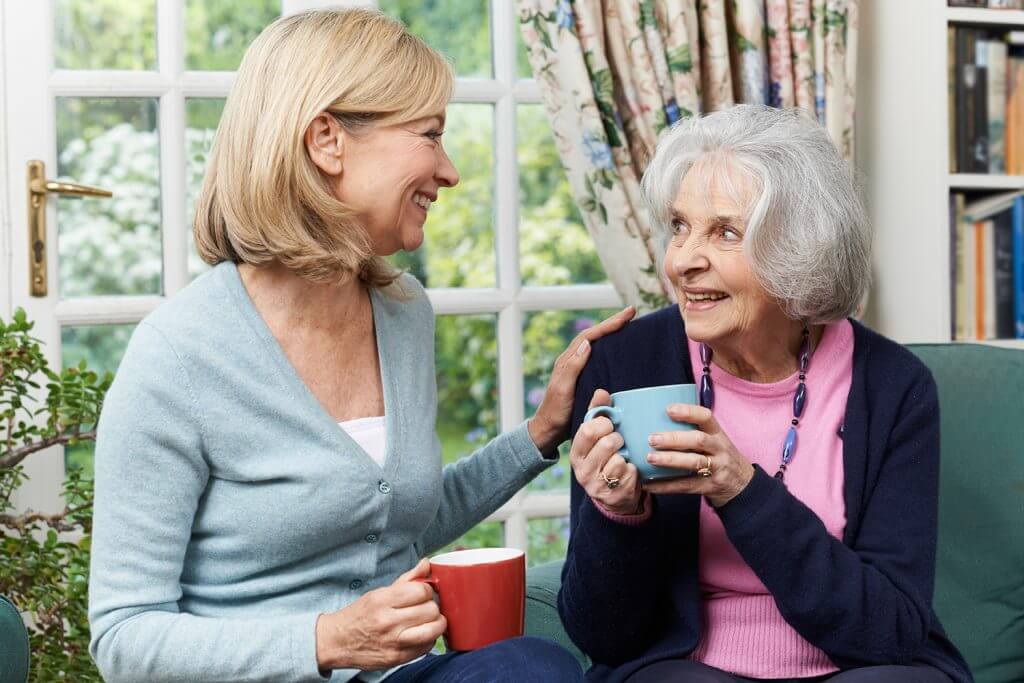 We've been in senior living for over 25 years and know how it often goes. You just spent the holidays with loved ones and suddenly realize it is time to have "the talk" with Mom and/or Dad about the next best step in their living situation.  While this might initially bring feelings of stress and anxiety to possibly both parties, it needn't be that way.  The truth is, you love your parents and want a safe and rewarding living environment for them whatever their physical needs.  If done correctly, The Conversation, can be your turn to show your care and concern for someone who had that same care and concern for you earlier in your own life.  These 5 steps can make things go as smoothly as possible:
1)  Understand the Need.  It is important to step back and take an honest look at the current situation and assess things unemotionally.  The parent/child relationship is such a strong one and always filled with deep emotions of what we "wish" to be true but by taking a more analytical approach, you will better determine where Mom or Dad is right now and how best to help them plan their next steps based on their unique needs.
2)   Discuss with other Influencers.  Obviously any discussions should include your siblings or any other key influencer who would want to be a part of the process.  It is important to open any communication with them in an exploratory way without seeming to have already settled on what needs to be done (if anything).  Being prepared with a collaborative and unified plan allows Mom and/or Dad to not have to worry about any conflict among siblings related to this issue.  It will also give them confidence that more than one person who loves them is on board with this next step.
3)   Timing Is Everything.   Make sure you pick the right time.  Even though you have gathered information and discussed with other family members, the initial conversation with Mom and Dad needs to appear very casual and be raised in a calm, stable environment.  Your goal is just to   "plant the seed" and assess their reaction.  You might mention that a friend's mother had moved to a retirement setting and seemed to be enjoying it.  They may be positive and tell you they have been considering a move too or may change the subject.  This is never a "talk" as much as it can be a process.  In the end, Mom and Dad need to know you care about them and only want what is absolutely best for them and that you respect their opinions.   Multiple conversations at appropriate times over a few weeks can allow your parents to feel in control and part of the process.  This will allow them to make the decision on their own terms and maintain the dignity and respect we all desire.
4)   We want the Best for You. This phrase should become the theme of all conversations you have with your parents.  Point out lovingly the current living situation and how a move to a senior living community is the most safe, beneficial and smart move they can make. Present the amazing social, emotional, mental, and spiritual benefits, as well as the overall quality of life that improves greatly when senior adults make the move to a vibrant retirement community.
5)   We're with You. Mom or Dad may worry about a move to a new environment, surrounded by a sea of strangers and new faces may mean they'll see you less.  Assure them that, on the contrary, you will now get to see them for a meal in the dining room or just stop by and visit since you will not have to help them with home maintenance issues, transportation needs or other things they can no longer do on their own.  Talk about how  this is an exciting new chapter for you both and the peace of mind you'll have in knowing there are so many staff members always there to help Mom or Dad which will make you both feel more secure.  Finally, talk about how positive this step is for their long term future and how much you appreciate their willingness to make a positive plan in ensuring their needs are met.
For most of us, this conversation is inevitable. We know how it feels and we are here for you. If you have any questions, concerns or need more information and help on how to begin this conversation, give us a call at 918-299-2661 or contact us here. Our retirement home tulsa ok facility is located just south of Oral Roberts University off Lewis Ave. and 85th Ave.