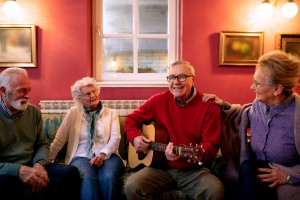 Music is a great connector of people, and when it comes to music, seniors are so important. Today's seniors have lived through so much change, including changes in genre of music. From big-band to country-western, music plays a big role in all of our lives. Here are a few ways music can be an important way that seniors connect:
Nostalgia: Music has the power to take us back to the good ol' days. Often times, seniors are faced with many years without an important loved one, and music can be so important to help them remember the presence of a dear loved one. For example, listening to the song that you and your spouse danced to on your wedding day can bring back a flood of happy memories and help you get through a tough day.
Conversation: Asking people about their favorite song or singer can be a great way to break the ice and make a new friend. You might be surprised by how much you have in common with your neighbors.
Exercise: Dancing is a great way to get yourself and your loved one moving. Especially in the morning, we could all use a pick-me-up. So look for a high energy song that gets your toes tappin'!
At University Village, music is a big part of our culture. From resident choirs to performances by professional musicians, we keep it lively by offering a wide variety of musical treats.
Our assisted living Tulsa OK community is here for you! If you believe that you or your loved one may be ready to begin looking for retirement homes in Tulsa OK, contact us here.