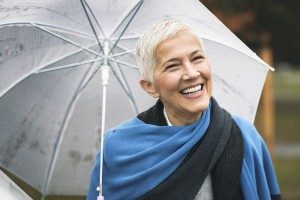 Spring weather can be wild! Pop-up thunderstorms can be swift and wreak havoc on your day or night. If you have a senior adult in your life, check in with them before the spring storm season to make sure they are ready. Here are a few items to check on:
Flashlights: Do you have a flashlight in an easily accessible place with fresh batteries? You might consider keeping one in the kitchen and the bedroom and keep in the same place so that you will immediately know where to go.
Radio: Do you have a small battery operated radio? In case the power goes out, it's nice to keep in touch with what is happening outside.
Cellphone Charger: Do you have a battery pack specifically for charging cell phones? There is nothing worse than wanting to check on a loved one's safety only to find that you can't get a hold of them because their cellphone is dead.
Plan: Do you have a plan in place to take cover if severe weather hits? Review the plan with your loved one and ask them to practice taking shelter. This helps them remember what to do in case of an emergency.
University Village takes spring weather very seriously and we do everything we can to have a plan to keep your loved one safe. Read about our safety plan here.
University village offers an exceptional care in our senior living communities Tulsa OK locations.  Contact us here to discuss your options for assisted living in Tulsa OK.